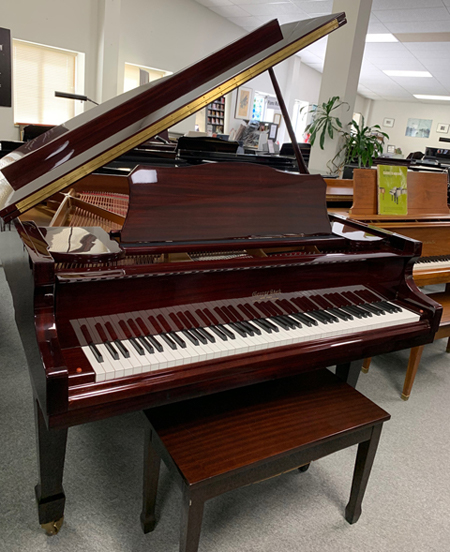 George Steck GS-72

5'8"Mahogany Polish Grand Piano - Serial #GL8412 - 15 yrs old
This George Steck Model GS-72 is a 5'8" Mahogany polish grand and was built after 2004 and most likely about 15 years old.
Please contact us for availability.
SKU

STECK-GS72
It has had one owner and was barely used. Inspection shows that it is in great condition, with a lot of life left to the hammers. This is a very pretty grand! Bench included. It has been reconditioned which included:
Hammer Resurfacing
Aligning Hammers to Strings
Tightening Action Screws
Leveling Keys
Adjusting Key Dip
Adjusting Let-off and Backchecks
Cleaning the Strings
Polishing Keytops
Cleaning both inside & out
Polishing the Case
Adjusting the Pedals
Re-pinning & Replacing Felts as Needed
Tuning and Voicing
If you have the space, this will be a great little grand for your beginner pianists. It looks beautiful and will be a great addition to your living room or music studio.
George Steck Piano History
George Steck was a German immigrant who opened up a piano manufacturing company in New York in 1857. His factories soon grew along with his fame. He was the first to develop the independent cast iron frame, and won medals in Vienna and Philadelphia in the 1870's. The Steck instruments were praised by Franz Liszt and Richard Wagner.
The Aeolian piano company acquired the company in 1904 and produced the Steck pianos until the 1980's. From 2004 on, George Steck has been owned by various Asian piano companies, and was imported from China until 2015. It is no longer made today.
More information from our website George Steck GS-72
Additional fees may be added to the delivery of acoustic pianos if there are flights of stairs, steep inclines, tight corners or the use of a crane is required.
Warranty
We guarantee our work with a 2-year mechanical warranty.