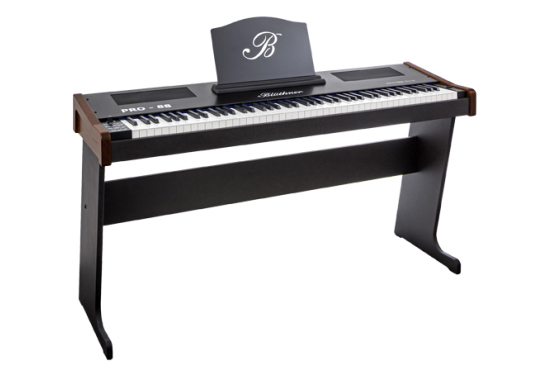 e-Klavier Pro-88 Stage Piano

Blüthner Stage Piano
88 Keys, Ivory Feel, 4 Zone graded hammer-action
Blüthner Model 1 Sound sources, R.A.S.: Real Acoustic Sampling
Stand Included
$

1,750.00
$2,899.00
You Save $1,149.00
SKU

EKLAV-PRO88
35 Blüthner Sounds, 256 GM Sounds; Effects: Reverb, Multi Effects, Global Equalizer
Blüthner 2 x 5" speakers, 2 x 30 Watt digital amplifier designed by Blüthner
Touch Weight Adjustment: customizable keyboard resistance
Blüthner APS - Acoustic Piano Simulation® Technology.
Authentic Acoustic Behavior®
Damper Resonance Modeling utilizing Blüthner APS® Technology
Black Satin w/Cherry End Caps
More information from our website e-Klavier Pro-88
128 Note Polyphony
Split, Dual, 4 Zones Layer voiceing. Performance Mode
Transpose: 24 Semitones up and down
Tuning: Fine-Tune by 0.5 Hz steps
USB Host/Device
MIDI IN/OUT/THRU
Stereo IN (3.5")/OUT (6.3")
2x Headphones
USB Recorder: MIDI, WAV
USB Player: MIDI, WAV, MP3
Metronome: Tempo 20 to 250 BPM
Finish: Black Satin w/Cherry End Caps
Keyboard Height: 5.2" (13.3cm), Width: 55" (139.6cm), Weight: 57 lbs (19kg)
Stand Height: 24.6" (62.5 cm), Width: 55" (139.6 cm), Weight: 15 lbs (7 kg)
Total Height: 29.8" (78.8 cm), Width: 55" (139.6 cm), Weight: 72 lbs (33 kg)
All specifications subject to change without notice.
Julius Bluthner Pianofortefabrik GmbH warrants this product to be fully covered for any defects in workmanship and materials within 2 years from the original date of retail purchase.
e-Klavier Pro-88 EX Stage Piano

Blüthner Stage Piano

88 Keys Blüthner Grand-Touch Mechanic®

Blüthner Model 1 Sound sources, R.A.S.: Real Acoustic Sampling

256 Note Polyphony

This model and its options may take longer to ship. Contact us for shipping times.

EKLAV-PRO88-EX

Quik Lok VP-26 U Volume Pedal

Universal Volume Pedal


Finish: Blue

**Free Shipping to the contiguous 48 U.S. states. See Shipping Details below.**

VP-26U