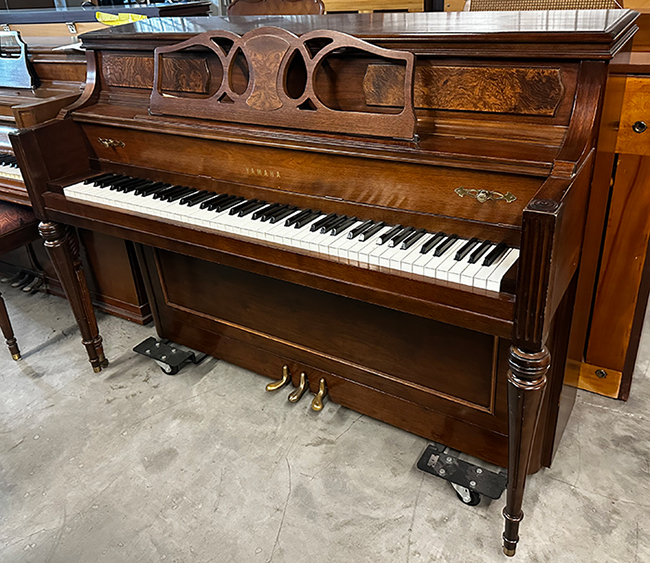 Yamaha M213

42" Cherry Console Upright - Serial #B134935 - 1980
From 1973-1986 the Yamaha piano company owned the Everett factory in South Haven, MI, where both Yamaha and Everett pianos were manufactured . This is one of those pianos, and was built in 1980. It is cherry satin 42" console upright model M213. The decorative style case was especially made for the home, and comes with a matching bench with storage.
SKU

YAMA-M213
This piano has been inspected and is in good condition. It has the normal wear of an instrument from 1980 that has had minimal use in a home. It has received an all points regulation, thorough case cleaning and polishing of all brass hardware. The bench is included. This reconditioning included:
Hammer Resurfacing
Aligning Hammers to Strings
Tightening Action Screws
Leveling Keys
Adjusting Key Dip
Adjusting Let-off & Backchecks
Cleaning the Strings
Cleaning Keytops
Adjusting the Pedals
Tuning
If purchased new today, this piano retails at $7899.00. This much sought after piano offers so much for half the price of a new instrument.
Yamaha Piano History
The Yamaha Corporation built it's first upright pianos in 1900, with grand pianos soon to follow. This Japanese company has continually sought to improve its instruments by sending its engineers to study with European piano manufacturing greats, as well as bringing experts to Japan to advise in their factory. The Yamaha Music school was started in 1954, and soon thereafter the company began to diversify with production of motorcycles, water craft, as well as other instruments.
In 1973 Yamaha bought the Everett Piano Company located in South Haven, MI, and produced pianos for the US market in factories that were located in Michigan and Georgia. These factories closed in 1986 (Michigan) and 2005 (Georgia). Today all of the Yamaha pianos are made in Asia, including Indonesia, China and Japan.
Yamaha has maintained its success to become one of the largest piano manufacturing companies in the world, and acquired the German Piano Bosendorfer in 2008, maintaining it's manufacturing plant in Austria. Today it is one of the most recognized names in the musical world.
More information from our website Yamaha M213
Additional fees may be added to the delivery of acoustic pianos if there are flights of stairs, steep inclines, tight corners or the use of a crane is required.
Warranty
We guarantee our work with a 2-year mechanical warranty.