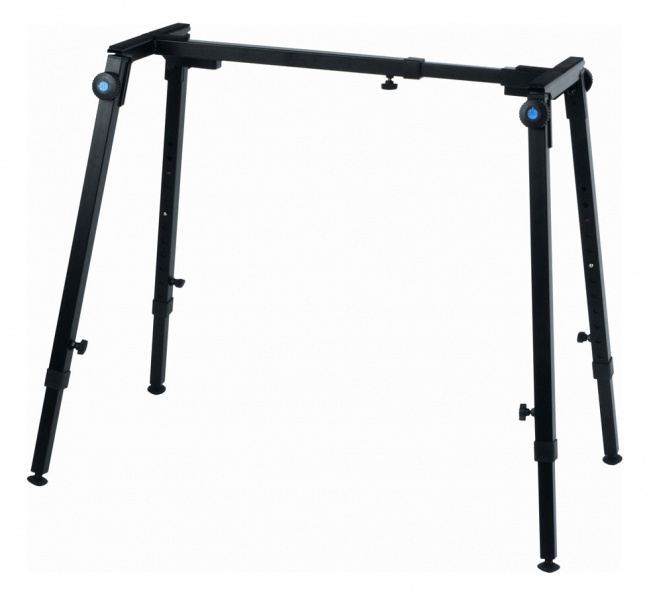 Quik Lok WS-421 Keyboard Stand

Keyboard/Mixer Stand

The WS-421 is a portable, heavy duty, height & width adjustable keyboard/mixer stand with foldable legs. Weight Capacity 178 lbs.
Finish: Black
**Free Shipping to the contiguous 48 U.S. states. See Shipping Details below.**
$

159.99
$248.33
You Save $88.34
SKU

WS-421-U
The WS-421 design grants maximum leg room for comfortable playing, in addition to providing a large area for placement of floor pedals. Height adjustable to 12 positions from 25.6" to 37.8" (65 to 96 cm), this stand is great for tall musicians. The telescoping frame is width adjustable from 25.2" to 39.37" (64 to 100 cm) allowing you to custom tailor the stand to the exact size of your equipment. Heavy steel construction for years of reliability. Folds flat in a snap for easy storage and transport.
Options: WS/422, QLX/4*, QLX/5*, LPH/X*, IPS11*
* Note: can be used only in combination with WS/422 add-on tiers.
Finish: Black
Weight: 18 lbs.
Height Adjustment: 25.6" to 37.8" (65 to 96 cm)
Folded Dimensions: 27.95" x 14.57" x 5.3"
Brace Tube Size: 30mm
Weight Capacity: 178 lbs. (80kg)
All specifications subject to change without notice.
*Free Shipping only applies to the contiguous 48 U.S. states.
Warranty
All Quik Lok products are warranted for a period of thee (3) years from date of purchase against defects in workmanship and materials.