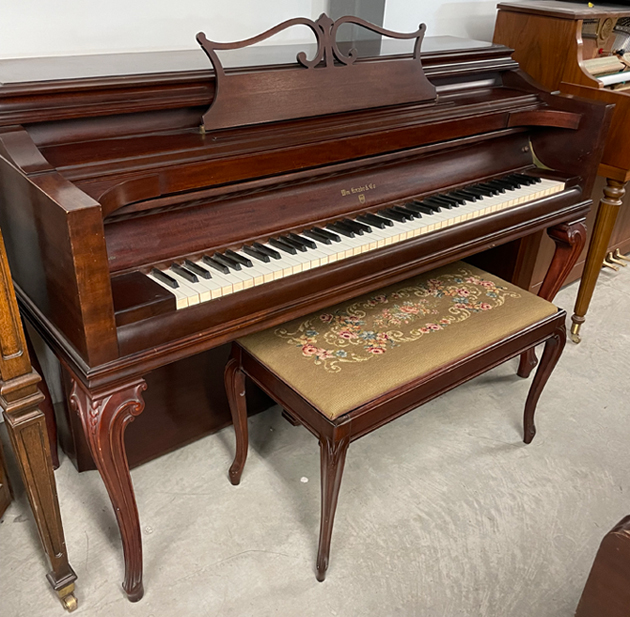 Knabe Mignonette

Knabe Mignonette - 39" Mahogany Satin Spinet- Serial #147543 - 1951
This 'Little Darling' was built in the USA in 1951, and has a very unique case, ivory keys and a matching bench. It has been very well cared for, and is a solid little piano.
SKU

KN-MIGNON
As with all preowned instruments, this piano will be reconditioned to our high standards. Reconditioning included:
Hammer Resurfacing
Aligning Hammers to Strings
Tightening Action Screws
Leveling Keys
Adjusting Key Dip
Adjusting Let-off & Backchecks
Polishing Keytops
Adjusting the Pedals
Polishing brass hardware
Clean Case
Tuning & Voicing
We back our work with a 2-year warranty.
Knabe Piano History
Wm. Knabe & Company began manufacturing pianos in Baltimore, MD in 1839. His establishment grew until in 1908 it merged with Chickering and Foster Armstrong, two other large piano makers at the time. The Knabe company won many awards for their square grands and prided themselves in their high standards and handcrafted pianos. In 1932 Knabe once again merged with the Aeolian piano company, who continued to make the piano until 1981. Today the the piano is a subsidiary of the Samick Music Corporation, who continue to produce pianos under the Knabe name.
More information from our website. Knabe Mignonette
Additional fees may be added to the delivery of acoustic pianos if there are flights of stairs, steep inclines, tight corners or the use of a crane is required.
Warranty
Warranty: 2-year mechanical