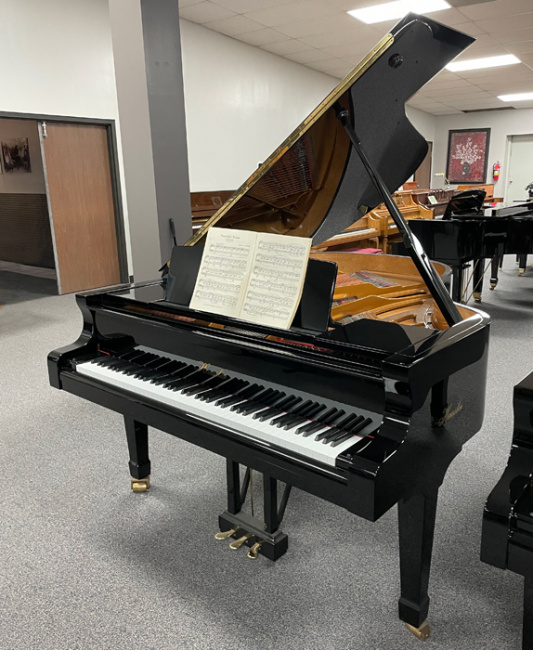 Haessler H186

6'1" Ebony Polish Grand Piano - Serial #199776 - 2005

This German made Haessler 6'1" Ebony polish grand, model H186 was built in 2005 by the Blüthner Piano Factory in Leipzig. This piano has been lightly used in a home setting. It had a player system that has since been removed, and thus does not have a sostenuto pedal. This can be reassembled if needed.
SKU

HAESSLER
What a wonderful piano! It has had light use in a home setting. This German made instrument has a rich, full bass and melodic treble, all German made parts and is hand made! You can't get much better than that.
It has been fully reconditioned and regulated by our technicians. Cosmetically, it has brass hardware and the case will be cleaned and polished. An all-points regulation includes:
Resurfacing the Hammers
Aligning Hammers to Strings
Leveling Keys, Adjusting Key Dip
Adjusting Let-off and Backchecks
Cleaning the Strings & Soundboard
Polishing the Keytops
Tightening All the Action Screws
Tuning and Voicing
Haessler Piano History
Designed and Manufactured by the Blüthner Piano Factory in Leipzig, Germany, the Haessler piano is a hand-made instrument of high quality. A vision of the Blüthner company, it combines modern techniques and materials with the timeless craftsmanship of the Blüthner piano.
More information from our website Haessler H186
Additional fees may be added to the delivery of acoustic pianos if there are flights of stairs, steep inclines, tight corners or the use of a crane is required.
Warranty
We guarantee our work with a 2-year mechanical warranty.