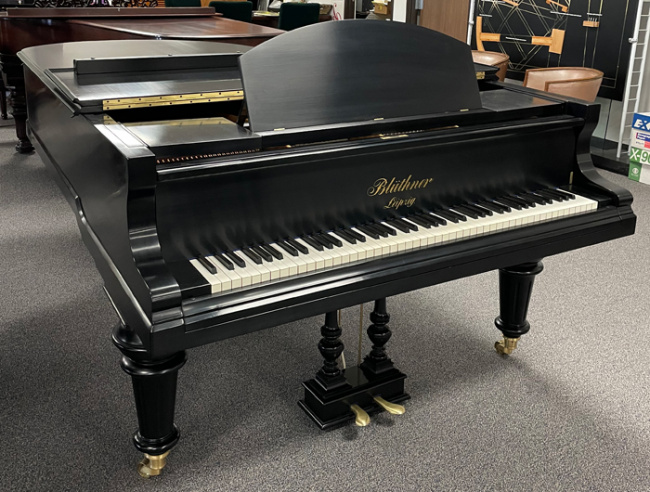 Blüthner 7'

7' Ebony Satin Grand - Serial #42785 - 1895, Fully restored in 2013

Built in 1895 and restored by RPI in 2013, this is a wonderful preowned 7' Blüthner grand with an art case style. It has been reconditioned and is available to play on our showroom floor.
SKU

BLUTHN-4
Completely restored in 2013, with all new Renner for Blüthner actions parts, Blüthner hammers, key bushings and damper felts, as well as a new European spruce soundboard, Maple bridge caps, German strings and German pinblock. Nothing was left undone in this wonderful instrument. The finish is superb on the Victorian style case. This piano is a find, and has the Golden Tone that the Blüthner pianos are known for.
This Ebony Satin, art case 7' Blüthner comes with an artist bench and has passed our inspection. It has been reconditioned in our restoration center by our expert technicians. This included but is not limited to:
Resurfacing the Hammers
Aligning Hammers to Strings
Leveling Keys, Adjusting Key Dip
Adjusting Let-off and Backchecks
Cleaning the Strings & Soundboard
Polishing the Keytops
Tightening All the Action Screws
Tuning and Voicing
Cleaning the case
Polishing hardware
What a priceless vintage instrument. You can own a piece of history with this gem.
Blüthner History
Since 1853, Blüthner pianos have been exclusively manufactured in Leipzig, Germany. The company was founded by Julius Blüthner, who sought to build the "best pianos in the world." To achieve this, he worked with composers such as Franz Liszt. Within a few short years, the likes of Brahms, Shostakovich, Prokofiev, Mahler, Moscheles, Nikisch, Rachmaninov, Schumann, and Tschaikovsky would be performing and composing primarily on Blüthner pianos. Debussy fell in love with his first Blüthner when he heard the resonance of the 4th string Aliquot. He would compose all his works on his Blüthner. Rachmaninov composed the larger body of his works in his younger years at the bench of his famous Blüthner grand.
Today, the Blüthner family of craftsman and entrepreneurs continues to head the Blüthner firm and personally oversee the production of each piano bearing their name. They strive to carry on the legacy of the founder, Julius Blüthner, to build the best pianos in the world. This high standard of precision and craftsmanship have been achieved here for over 150 years.
More information from our website Blüthner 7'
Additional fees may be added to the delivery of acoustic pianos if there are flights of stairs, steep inclines, tight corners or the use of a crane is required.
Warranty
We guarantee our work with a 2-year mechanical warranty.